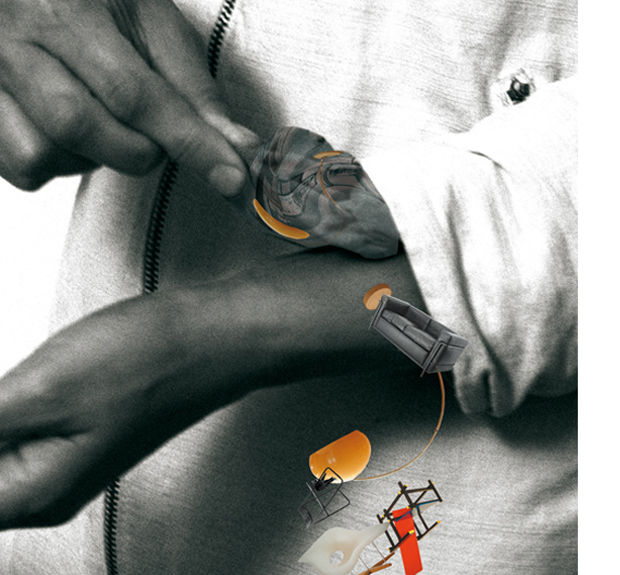 pinfurniture 05
stretch your imagination / tactile / textile / soft / transformation / cocoon
170x140cm, high-tech jersey, dye sublimation, prototype
"this is a crazy idea, but, have you ever seen those things where you have a tiny sponge and you throw it in the water and it becomes this big…what if you printed this with some sort of micro process that you pin the corner and you stretch it..." todd falkofsky, vancouver.
imagine you are moving somewhere else for three months. what would you put in your suitcase? a photo of your lover, your bone china vase, your walnut veneer modular shelving system, your breakfast mug with your name on it? why not opt for an affordable, portable, practical alternative?
just take your tiny pinfurniture with your favorite interior printed on it. scale your desirable design classic, whatever size you want it, distort it, suspend it on the ceiling, cover ugly dressers with it, divide your temporary room into zones, create your cocoon. pinfurniture is the interior design answer, a playful, humorous, and light product which adapts itself to any given situation.
"stretch the imagination. pinfurniture, designed for a mobile lifestyle by toronto-based designers sarah dorkenwald and ruth spitzer, is a pliable wallcovering product printed with collages of interior settings. using it, the designers propose a futuristic, flexible membrane that can be stretched and pinned in place at whim to create instant three-dimensional space. like a tiny sponge that expands with water, a stamp-size print can be transported in your wallet or pocket, ready to be stretched over a doorway for an instant barrier, or staked out for cocoon-like shelter", surface, fashion and design magazine, september 2004 (usa)
exhibition hot design. cool country.