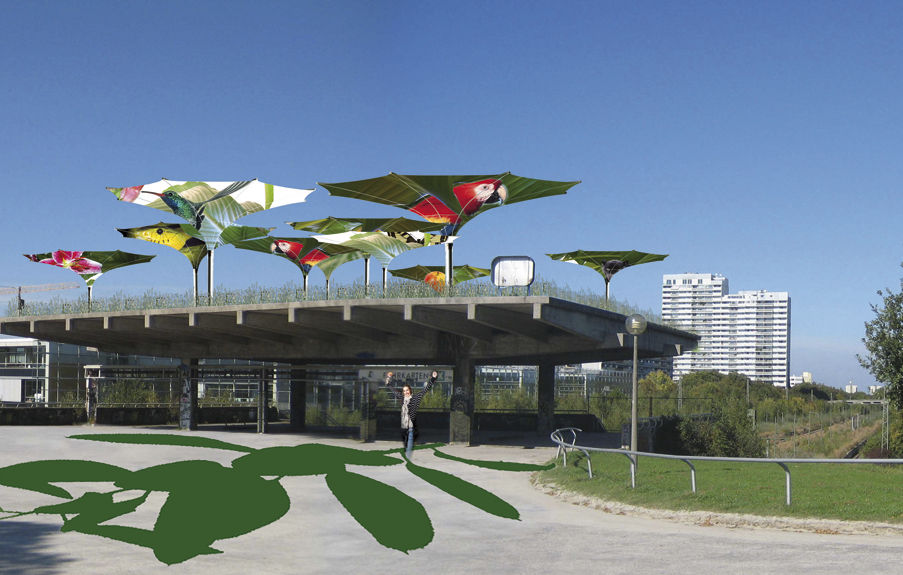 paradise garden 11
URBAN NATURE / STAGING / BRANDING
unrealized proposal for installation with 12 outdoor umbrellas, digital print, membranes, production mdt-tex
location: high line nyc (usa), commissioned art project, unrealized
client: mdt ges. f. sonnenschutzsysteme mbH, hardheim (germany)
collaboration: spatial design, munich (germany)
artwork: dorkenwald und spitzer, toronto (canada)
the high line is a park in manhattan, new york, redesigned and planted as an aerial greenway, which enjoys international attention.

the proposed site for the staging of mdt-tex outdoor umbrellas is in direct neighborhood to the high line and is visually recognizable either way from the park as well from the street level. the tulip shaped umbrellas promoting individual prints within the theme 'paradise garden' showcasing large figurative motives such as animals, tropical plants etc.

the paradise garden is an expression of the beautiful, promise-full, unattainable utopia and imagination. it connects humans and nature and reflects thus as a link between the high line and its urban surrounding.

with this project mdt-tex textile outdoor architecture features its versatile sun protective
systems and positions itself as high-quality firm. above all mdt-tex showcase the individual printing of the screens in an artistic conversion.