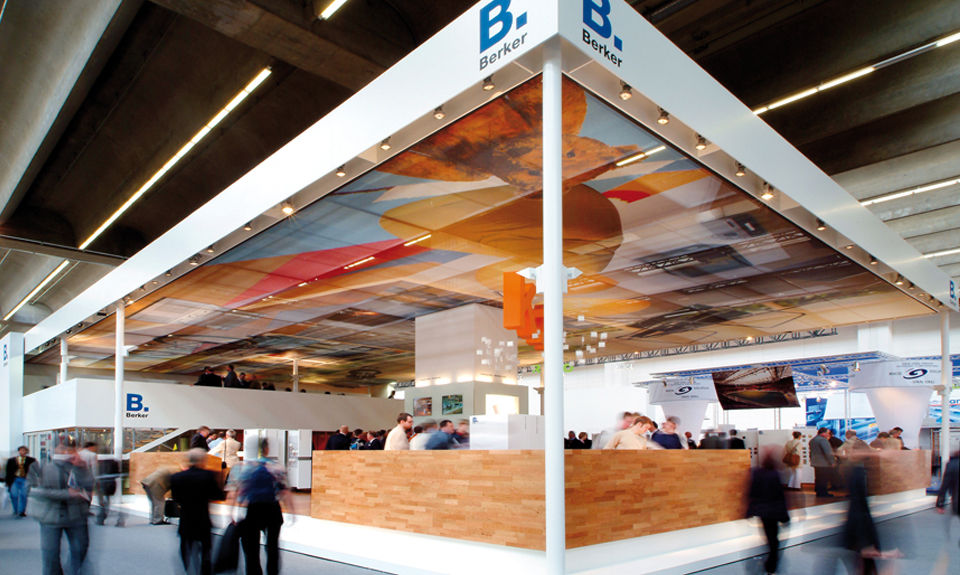 berker light+building 04
imagination / berker-heaven / a journey in time through the residential worlds of the 20th century / image
16x28m, digital print, ceiling membrane covertex, print production typico, lochau
fair: light+building 2004, frankfurt am main (germany)
client: berker gmbh & co. kg, schalksmühle (germany)
architecture: schmidhuber + partner, munich (germany)
creative director: thomas biswanger, ingolstadt (germany)
artwork: dorkenwald und spitzer, toronto (canada)

award:
_adam award 2004 (germany), nomination
the concept for the ceiling design of the german light switch manufacturer berker's exhibition booth at light+building 2004 demonstrates how art (in the form of wallfurniture) becomes a branding factor that supports specific marketing strategies.
in conjunction with creative director thomas biswanger, dorkenwald und spitzer developed the design concept for the ceiling screen in the wallfurniture style. their strategy was to 'emotionalize' the products and to target heterogeneous groups such as craftsmen, architects, and interior designers, as well as end-consumers. they combine warm tones, images of everyday environments and design classics transforming them into a new, all-encompassing architectural collage. dorkenwald und spitzer chose to represent many classic designs in the piece, all of which are either still in production or recently reissued, as they provide strong cultural currency and remain timeless and intelligent.
the design of the booth as a whole engages the viewer on two levels. the 'soft facts,' specifically the berker-heaven / wallfurniture ceiling design, convey the message, "with us you're in good hands," while the actual architecture of the booth presents the 'hard facts,' the switches and systems that berker produces.
selected products: fa. steiff, steiff teddy, 1905; marcel breuer, wassily chair, 1925; alfonso bialetti, coffeemaker, 1933; alvar aalto, savoy vase, 1937; ferdinand porsche ans vw, vw beetle, 1938; monneret jouets, spacehopper, 1950; frank lloyd wright, carpet for the house of david wright, 1950; dieter rams and hans gugelot, fa. braun, 'schneewittchensarg' (braun phonosuper sk4), 1956; roland töpfer, 'hb männchen bruno,' 1956; sony design center, sony portable tv 80 301, 1959; piero gatti and cesare paolini and franco theodoro, sacco chair, 1968; ernst rupp, afri cola bottle, 1962; raleigh chopper, bonanza-bike, 1970; rittersport chocolate, 'quadratisch, praktisch, gut'; colored metal bird; japanese office accessories; green plant, palmhouse kew gardens, royal botanical garden london.